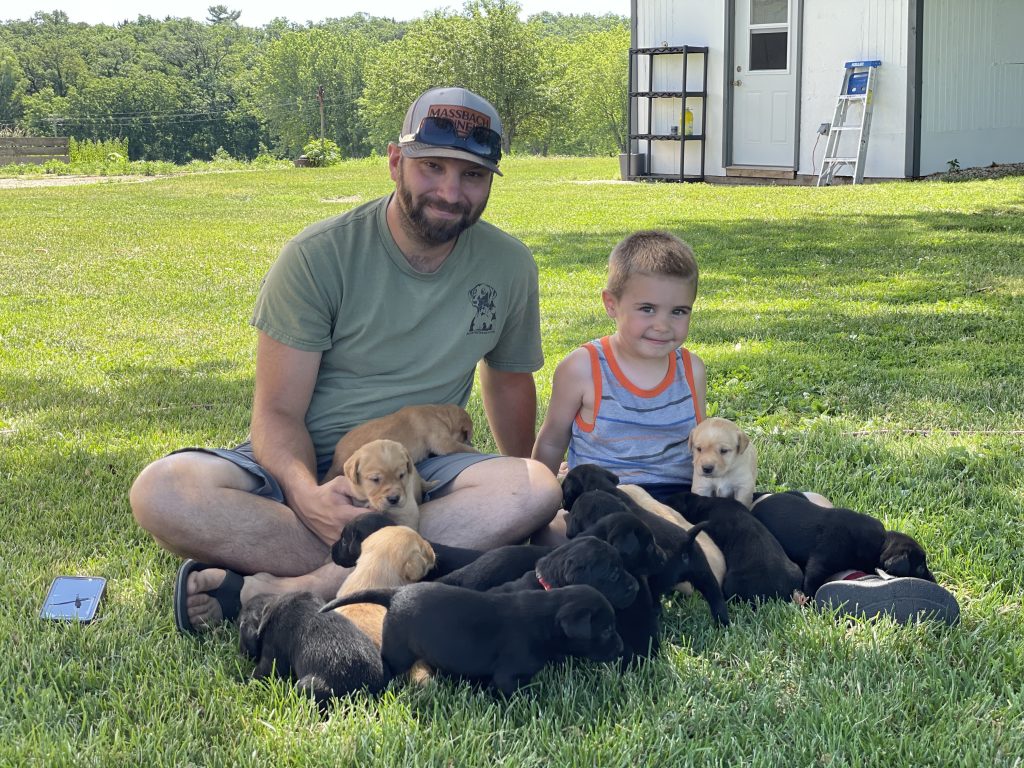 Hello, I'm Justin, and I'm proud to welcome you to Massbach Kennels, a premier kennel facility nestled in the heart of Northwest Illinois, Mount Carroll. Our journey began when I crossed paths with the renowned Ace Berry of Ace Retrievers. With over two decades of experience in the dog industry, Ace's wealth of knowledge merged seamlessly with mine, birthing what is now known as Ace's Retrievers at Massbach Kennels – a thriving partnership.
At Massbach Kennels, our expertise spans a wide spectrum. From boarding and training client dogs, ranging from English Bulldogs to majestic Great Danes, to breeding, raising, and training our beloved labs and Golden Retrievers, we do it all. But let me assure you, you don't need to own a lab or a golden to seek our services. Depending on your canine we adapt our training style to suit your dogs needs. We don't have a set program for each dog because we have found that each dog is different and has different needs!
Puppies? We have them, too! But we specialize in started dogs, we make it our mission to connect them with families seeking a furry companion that perfectly complements their dynamic – whether it's a bustling household with kids or a single individual in need of a loyal sidekick or a working/ hunting home. We're all about finding the perfect match for each family, tailoring our approach to suit your unique needs and lifestyle.
Our 130 acres of idyllic surroundings offer ample space for dogs to roam and play, complemented by expansive training grounds spread across a whopping 680 acres. Our state-of-the-art facility boasts numerous kennels, ensuring your furry friend's comfort and safety. Plus, we offer both indoor and outdoor accommodations, complete with heating and cooling systems for the utmost comfort.
Here at Massbach Kennels, we're not just a kennel – we're matchmakers, connecting the right dog with the right family, every time. Come visit us and experience the difference. Your furry family member will thank you!
What Sets Us Apart from Our Competitors:
At Massbach Kennels, our dogs stand out for several key reasons. Over the years, we've carefully selected our working lines from overseas, including Belgium, Italy, and the UK. This meticulous process isn't just about finding the healthiest and most robust dogs; it's about finding dogs with a natural on/off switch. What does this mean for you? It means that when it's time to retrieve, work, or have fun, our dogs are all in. But when they're not on the job, they're calm, content, and happy to relax in your home.